The Malayalam film industry has been without a doubt the best in India when judging by the calibre of films made ever since the genre enjoyed a rebirth in the last ten years, with the inflow of new-age directors producing some ground-breaking work. If the 2000s were the worst decade for Malayalam films, the best decades were unquestionably the 1970s and 1980s, when the New Wave and Middle cinemas rose to prominence. This ranking aims to include the top mainstream and independent movies.
List of Best Malayalam Movies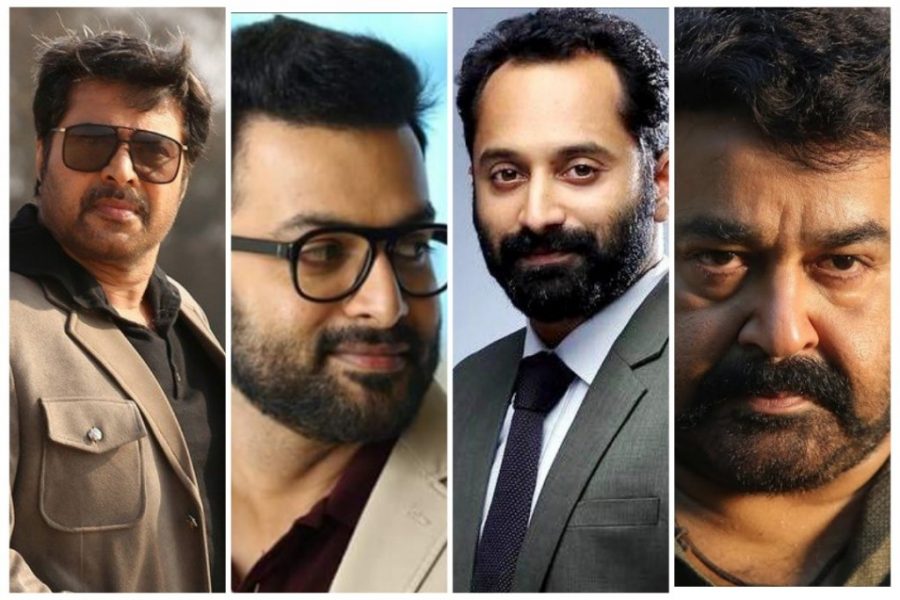 Movie name
IMDb rating

Kireedam (1989)

 

8.9

Thaniyavartanam (1987)

8.8

A Northern Story of Valor (1989)

8.7

Amaram (2001)

8.4

Namukku Parkkan Munthirithoppukal (1986)

8.5

Bharatham

(

1991

)

8.4

Drishiyam (2013)

8.3

Vidheyan (1994)

8.3

Malikappuram

(

2022

)

8.2

Ponthan Mada (1994)

8.0

Munnariyippu (2014)

7.8

Padavettu (2022)

7.2

Rorschach (2022)

7.1

Kappa (2022)

6.8

Nadan (2013)

6.7
Kireedam (1989)
Some of Malayalam cinema's most critically acclaimed and financially successful movies were penned by Sibi Malayil. "Kireedam" is another another acting masterclass by Mohanlal, who received the National Film Award – Special Mention "for magnificently and in an original manner portraying a young man's sorrow and pain."
The movie follows the tale of a young man whose world is turned upside down when he steps in to settle a dispute and saves his father, a police officer, from a vicious neighbourhood outlaw. This Malayalam classic's emotional theme centres on an unintentional outburst of fury and the subsequent chain of unintended consequences.
Cast: Mohanlal, Cochin Haneefa, Thilakan
Duration: 2 hours 20 mins
Director: Sibi Malayil
Producer: Dinesh Panicker, Krishnakumar
Where to Watch: Amazon Prime Video, Disney+ Hotstar
Thaniyavartanam (1987)
In the intriguing story Thaniyavarthanam (All Together), a man from a family with a history of insanity is told. Every generation has had a male victim of mental illness, and now one of the two brothers is said to be under the curse.Everyone begins to believe the eldest brother is insane after a nightmare and a few other incidents, but he is not. The rest of the narrative centres on his futile attempts to allay their concerns.
Cast: Mammootty, Thilakan, Mukesh, Saritha, Philomina
Duration: 1 hour 59 mins
Director: Sibi Malayil
Producer: Nandakumar
Where to Watch: Amazon Prime Video
A Northern Story of Valor
A Northern Ballad of Valor, also known as Oru Vadakkan Veeragatha, is a 1989 Indian Tamil movie epic historical epic movie that was directed by Hariharan and scripted by M. T. Vasudevan Nair. This movie, which is frequently regarded as a masterpiece of Malayalam cinema, is based on a subplot of the North Malabar-based mediaeval poem Vadakkan Pattukal. The narrative retells the life of the fabled Chandu Chekavar, portraying him as an unfortunate, misunderstood, but ultimately honourable man as opposed to the treacherous figure who gained him the folkloric moniker Chathiyan Chandu (literally, "Chandu the Betrayer"). 
Cast: Mammootty, Madhavi, Devan
Duration: 2 hours 48 mins
Director: T. Hariharan
Producer: P.V Gangadharan
Where to Watch: Prime video
Amaram (2001)
Bharathan directed the 1991 Malayalam dramady Amaram (Stern or Strict). The main character of the movie, played by Mammootty, is a fisherman whose only ambition is to provide his daughter the best education possible so that she might become a doctor.
When his daughter finds love and marries a childhood acquaintance, his hopes and dreams are dashed.The remainder of the movie demonstrates how the father deals with his anguish and his feeling of betrayal by his own daughter.
Cast: Mammootty, Mathu, Chitra
Duration: 2 hours 30 mins
Director: Bharathan
Producer: Babu Thiruvalla
Where to Watch: Prime video
Namukku Parkkan Munthirithoppukal (1986)
On the basis of K. K. Sudhakaran's 1986 novella Nammukku Gramangalil Chennu Rapparkkam, Padmarajan wrote and directed the 1986 Indian Malayalam romance drama film titled Namukku Parkkan Munthirithoppukal, which translates to "Vineyards for us to dwell in." A Malayali Syrian Christian-Nazarene ("Nazarene") family serves as the focal point of the story. The bible book Song of Songs, which describes a young woman and her boyfriend having a beautiful conversation, is mentioned numerous times throughout the narrative.
Cast: Mohanlal, Shari, Thilakan
Duration: 2 hours 20 mins
Director: Padmarajan
Producer: Mani Mallyath
Where to Watch: Disney+Hotstar
Bharatham (1991)
A story about two classical musician brothers: the younger brother upholds his shared obligations to their family, while the elder brother wastes his life and talent. A. K. Lohithadas wrote the 1991 Indian musical drama film Bharatham in the Malayalam language. In addition to background music by Johnson, the movie has unique songs written by Raveendran. According to Bharatha, Bharatham is a contemporary retelling of the Ramayana. The central theme of the novel is how Gopinathan assumes responsibility for the household in the absence of his older brother while also concealing his sorrows.
Cast: Mohanlal, Urvashi, Nedumudi Venu
Duration: 2 hours 27 mins
Director: Sibi Malayil
Producer: Mohanlal
Where to Watch: Disney+Hotstar
Drishiyam (2013)
In a far-off village in Kerala, there lives Georgekutty (Mohanlal), proprietor of a cable TV network. While the procedures are going on, Georgekutty's daughter Anju (Ansiba) takes a school trip. A few days later, Anju encounters a boy who was also on the school trip with her. A video of her that he recorded while on the school trip is used as a form of blackmail against her. By chance, Rani (Meena) and Anju kill him in the course of events. The murder victim is the son of IG Geeta Prabhakar, thus when Georgekutty learns about the happenings upon returning home, a game of cat and mouse ensues (Siddique). The remainder of the compelling story is around how the family handles the crisis that arises during the murder inquiry.
Cast: Mohanlal, Meena, Asha Sarath, Ansiba Hassan
Duration: 2 hours 44 mins
Director: Jeetu Joseph
Producer: Antony Perumbavoor
Where to Watch: Disney+Hotstar
Vidheyan (1994)
It is a film version of Paul Zacharia's Malayalam novel Bhaskara Pattelarum Ente Jeevithavum. In a South Karnataka environment, the master-slave relationship is examined in the movie. The violent, authoritarian landlord Bhaskara Pattelar rules over Thommy, a Christian migrant worker from Kerala. Thommy complies with all instructions from his master, including those to kill Pattelar's benevolent wife, Saroja, or to render his own wife intimately accesible to his master. Thommy follows Pattelar like a pet as he flees into a jungle as a result of his own actions. Thommy, however, rejoices in his freedom when Pattelar is killed.
Cast: Mammootty, Tanvi Azmi, M.R Gopakumar
Duration: 1 hour 52 mins
Director: Adoor Gopalakrishnan
Producer: K. Ravindran Nair
Where to Watch: Prime video
Malikappuram (2022)
Unni Mukundan plays the protagonist role in the 2022 Indian film Malikappuram, which was helmed by Vishnu Sasi Shankar. The movie premiered in theatres on December 30, 2022. The main character of the novel is Kallu, an 8-year-old girl from Panchalimedu town who is very eager to see the Sabarimala Ayappan Temple. Under the auspices of Aan Mega Media and , Neeta Pinto and  Priya Venu are in charge of producing the movie. Abhilash Pillai, who is well known for writing the scripts for Pathaam Valavu and Night Drive, wrote the story for the movie (film). The cinematography is under the direction of Vishnu Narayanan. Shameer Mohammed is the editor, and Ranjin Raj is the music composer. 
Cast: Unni Mukundan, Alphy Panjikaran, Deva Nanda
Duration: 2 hours 1 min
Director: Vishnu Sasi Shankar
Producer: Neeta Pinto, Priya Venu
Where to Watch: Disney+Hotstar
Ponthan Mada (1994)
V. Chandran wrote and directed the 1994 Indian movie Ponthan Mada, which was made in the Malayalam language. The movie, which is set in British India in the 1940s, centres on the extraordinary, uncanny, and heartwarming friendship between Ponthan Mada, a member of the so-called low caste, played by Mammootty, and Sheema Thampuran, his colonial landowner, who was expelled from England to British India as a young man for his support of the Irish Republican Army. With Mada suspended from an areca palm tree, the two speak across class lines through Thampuran's window. This is the only movie Naseeruddin Shah has ever made in Malayalam. The movie was a financial hit.
Cast: Mammootty, Naseeruddin Shah, Sreejaya
Duration: 1 hour 59 mins
Director: T.V Chandran
Producer: T. Ravindranath 
Where to Watch: Prime video
Munnariyippu (2014)
In his second film as a director, many National Award-winning filmmaker Venu tells the story of a young woman journalist who decides to write a biography of prisoner C. K. Raghavan (Mammootty), who claims he did not commit the crimes for which he is currently serving a sentence.
'Munnariyippu' is a multifaceted movie that throws away some norms and deconstructs the story, making it an intriguing visual experiment. Mammootty's excellent performance and restrained demeanour raise the calibre of the movie. He discards all traces of his rockstar status and meticulously absorbs Raghavan's entire personality.
Cast: Mammootty, Aparna Gopinath
Duration: 1 hour 55 mins
Director: Venu
Producer: Ranjith
Where to Watch: Prime video
Padavettu (2022)
Liju Krishna wrote and directed the political action thriller movie Padavettu, which translates to "Battle" in Malayalam. Maloor, a village near Kannur where agriculture is the primary source of income, is where the story is situated. Ravi (Nivin Pauly), a sports biker and athlete, had a life-altering accident that makes him a reclusive person who spends all of his time playing video games and lounging around in his little home. That is, until a subsequent incident completely changes his life, prompting him to rebel against the political order. Will he be able to win the villagers' backing in his fight against the politician? The events in his life that transformed him into a revolutionary activist are what make Padavettu's tale unique.
Cast: Nivin Pauly, Aditi Balan, Shammi Thilakan
Duration: 2 hours 25 mins
Director: Liju Krishna
Producer: Siddarth Anand Kumar
Where to Watch: Prime video
Rorschach (2022)
Concerned about his wife's abrupt absence, Luke calls the police and reports the occurrence. Since Sofia has vanished completely, the police believe that Luke's wife was mauled by an animal and advise him to leave the scene.
Luke makes the decision to go looking for Sofia by himself and makes a friend named Balan. However, it is clear that Luke is hiding more from us than he originally admits. It's not particularly difficult to understand Rorschach's story, and you can tell right away that his underlying motivations are far darker than he is letting on.
Cast: Mammootty, Grace Antony, Jagadish
Duration: 2 hours 30 mins
Director: Nissam Basheer
Producer: Mammootty
Where to Watch: Prime video, Disney+Hotstar
Kaapa (2022)
Anand and Binu are a happily married couple of Bangalore-based technologists who have been assigned to work in Thiruvananthapuram. Their joy is short-lived, though, when Anand discovers that Binu's name is listed in the KAAPA  meaning  "Kerala Anti-social Activities Prevention Act" as a result of news reports that linked her name to crimes she was allegedly involved in. He looks to Kotta Madhu, the top criminal in the city, and his wife Prameela for assistance in clearing Binu's name and proving her innocence. Anand unintentionally becomes involved in the neighbourhood gang fights while working to clear Binu's name. Cast: Prithviraj Sukumuran, Asif Ali, Anna Ben
Duration: 2 hours 16 mins
Director: Shaji Kailas
Producer: Jinu Abraham, Siddarth Anand Kumar
Where to Watch: Prime video
Nadan (2013)
The 2013 Malayalam film directed Nadan (The actor), which was written and directed by S. Suresh Babu, is about an actor. The tale of Nadan centres on a well-known theatre company held by Devadas Sargavedi (Jayaram), that had previously been controlled by his father and grandparents. It describes the difficulties the owner faced and his struggle to survive. The core of the story revolves around the resurrection of this magnificent art form thanks to the persistent efforts of the gifted theatrical performers.
Cast: Jayaram, Ramya Nambeeshan, Chempil Asokan
Duration: 2 hours 30 mins
Director: Kamal
Producer: Anil Kumar
Where to Watch: MX Player, Sun NXT




#Malayalam #Movies #Top #Rated #Malayalam #Movies #Time #IMDb #Rating