Beyond the known earth, Interior space new horizons, technical borders, synthetic intelligence. The best science-fiction films transport us to worlds beyond our comprehension while conjuring up futuristic scenarios that inevitably influence our own technological advancements. Great science fiction explores every aspect of the human experience to the humanity's future with mind-blowing imagery and ideas. It's a genre that encompasses a wide range of stories, from quick-witted, brightly coloured space adventures to sombre dystopian tragedies, set in the present, the distant future, or even in the distant past in a galaxy far, far away.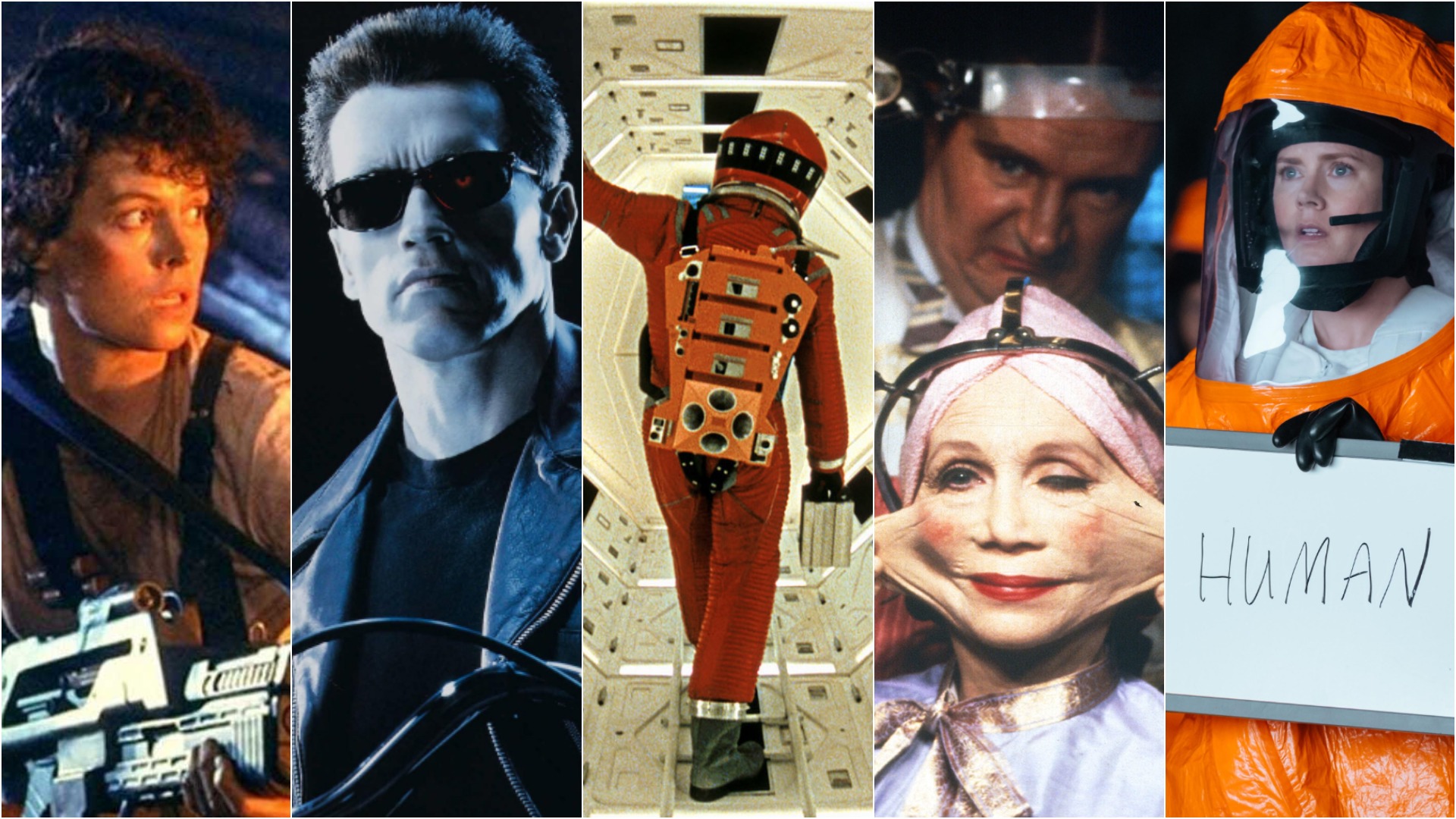 Following is the list of best science fiction movies of all time that will take you to the world of science and imagination:
| | |
| --- | --- |
| Movie Name | IMBD Rating |
| Primer (2004) | 6.8 |
| Everything Everywhere All at Once (2022) | 8.1 |
| Attack the Block (2011) | 6.6 |
| Voyage Dans La Lune (1902) | 8.2 |
| Annihilation (2018) | 6.8 |
| Rogue One: A Star Wars Story (2016) | 7.8 |
| Close Encounters of the Third Kind (1977) | 7.6 |
| Sorry To Bother You (2018) | 6.9 |
| A Quiet Place (2018) | 7.5 |
| Arrival (2016) | 7.9 |
| Blade Runner(1982) | 8.1 |
| E.T. the Extra Terrestrial (1982) | 7.9 |
| The Terminator (1984) | 8.1 |
| Gravity (2013) | 7.7 |
| Inception (2010) | 8.8 |
| Children Of Men (2006) | 7.9 |
| Under The Skin (2013) | 6.3 |
| WALL-E (2008) | 6 |
| High Life (2019) | 5.8 |
| Interstellar (2014) | 8.6 |
Primer [2004]
Some time travel films are content to settle for vague explanations of how their own brand of continuum-twisting technology functions. Primer is not one of those movies with time travel. It emphasises the technical aspect while never pandering to the public and strengthening its credibility at the same time. It also demonstrates how the serious repercussions of playing with time split experimental buddies Abe and Aaron apart. It accomplished all of this on a $7000 budget. Thoughtfully executed hard science fiction, with a focus on how most earth-shattering innovations and discoveries occur practically by accident.
Cast: Shane Carruth, David Sullivan
Duration: 77 minutes
Directed by: Shane Carruth, David Sullivan
Where to Watch Online: Amazon Prime Video
IMBD Rating: 6.8
Also Read: Best Korean Movies of all Time to Watch Online
Everything Everywhere All at Once (2022)
Everything Everywhere All at Once generated a lot of buzz. It became somewhat overegged. Some found the wackiness to be too much. But if you can imagine yourself in a period when none of that buzz existed and accept it, you'll discover a touching family story that is presented from about 30 distinct perspectives. Evelyn, played by Michelle Yeoh, is a lady whose life is falling apart due to her husband's desire for a divorce, her daughter's distance, and the IRS's pursuit of her. She later learns that she is one of countless Evelyns that live in other timestreams, and because of her miserable existence, she is the only one who can use the alt-Evelyns' skills to prevent reality from being destroyed. By the way, the striking battle scenes were choreographed by the same group who worked on Shang-Chi and the Legend of the 10 Rings, continuing the comparison to Marvel.
Cast: Michelle Yeoh, Stephanie Hsu, Ke Huy Quan, Jenny Slate, Harry Shum Jr., James Hong, Jamie Lee Curtis
Duration: 2 h 19 min
Directed by: Daniel Kwan and Daniel Scheinert
Where to Watch Online: Amazon prime video, YouTube
IMBD Rating: 8.1
Attack the Block (2011)
The alien invasion movie Joe Cornish directed may be the first to pit the occupants of a Stockwell tower block against "huge alien gorilla wolf motherfuc*ers," as one character puts it. Attack the Block believed that if the life of the human race were at stake, they would be the people you'd want on the front lines. This was just a few years after David Cameron spent entire speeches trying to convince Middle England not to soil itself with the thought of "hoodies." A falling extra-terrestrial interrupts Moses and his friends' attempt to mug Samantha (Jodie Whittaker), a nurse, on Guy Fawkes Night (John Boyega, a very young and very magnetic actor in his first major motion picture role). They are sequestered inside their tower block. Now they will have to harmoniously work to save humanity.
Cast: John Boyega, Jodie Whittaker and Nick Frost
Duration: 88 mins
Directed by: Joe Cornish
Where to Watch Online: Google Play, Vudu , Amazon Instant Video
IMBD Rating: 6.6
Also Read: Best movies on Disney+Hotstar of all time: Ford vs Ferrari, Avatar, The Fault in our Stars, and More
Voyage Dans La Lune (1902)
In his lifetime, Georges Méliès, a creator of visuals in cinema, produced hundreds of short films. Others were truly bizarre dreams centred around set pieces like The Astronomer's Dream. Some were light-hearted experiments showing how jump cuts and trick photography might make the impossibly suddenly tangible on screen. Between the two is his most cherished work, which would go on to lay the groundwork for future science fiction fantasies. Some of the core elements of all science fiction are already present in this loose adaptation of Jules Verne's From the Earth to the Moon and Around the Moon, most notably humanity catching aliens and then being shocked when that turns out to be a terrible idea.
Cast: Georges Méliès, Bleuette Bernon, François Lallement
Duration: 18 minutes (12 frames), 16 minutes (14 frames)  , 14 minutes (16 frames), 9 minutes (24 frames)
Directed by: Georges Méliès
Where to watch online:
IMBD Rating: 8.2
Annihilation (2018)
The sequel to Ex Machina by Alex Garland is a radically different animal that is woozier, more artistic, and has four mouths protruding from its back. A strange shimmering haze begins to spread from the location of the meteorite impact when it strikes a section of American coastline. Unfortunately, it appears like the haze is mucking up people and scattering bits of them all over the area or turning them into globs of goo. One of the people sent to figure out what's going on is Natalie Portman, who discovers doppelgängers, a bear with the voice of her partner, and Oscar Isaac running around with a grenade. More goo-people, too.
Cast: Natalie Portman, Gina Rodriguez, Tessa Thompson, Jennifer Jason Leigh, Tuva Novotny, and Oscar Isaac
Duration: 1 h 55 min
Directed by: Alex Garland
Where to watch online:
IMBD Rating: 6.8
Rogue One: A Star Wars Story (2016)
The designs for the Death Star didn't just appear out of thin air, you know; this is the backstory of the events in the original Star Wars. Instead, a band of misfits lead by Felicity Jones and assisted by Riz Ahmed, Diego Luna, and Alan Tudyk in the form of a reprogrammed Imperial robot stole them in a daring raid. It has a very uniquely Star Wars vibe, a really great Darth Vader freak-out sequence, and a verve of its own, making it the best Star Wars movie produced since the original trilogy. Particularly near the conclusion, there is a one-two blow of destruction and new hope.
Cast: Felicity Jones, Diego Luna, Donnie Yen, Mads Mikkelsen, Alan Tudyk, Riz Ahmed, Jiang Wen, Ben Mendelsohn, and Forest Whitaker.
Duration: 134 mins
Directed by: Gareth Edwards
Where to Watch Online:
IMBD Rating: 7.8
Also Read: Best Bollywood Movies on Netflix Right Now
Close Encounters of the Third Kind (1977)
The basis of the film's enduring force and its bittersweet taste lies in the spirit of wonder and optimism that permeates Steven Spielberg's second massive movie. One of the recurring themes in science fiction is the idea that humanity will one day advance far enough in its evolution to occupy a place among the stars. With the exception of Arrival, it hasn't been much into that lately because we've been so busy finding new and inventive ways to ruin our own planet. There are a couple different versions available, so take caution: avoid the 1980 special edition in favour of either the 1977 original or Spielberg's 1998 theatrical cut.
Cast: Richard Dreyfuss, Teri Garr, Melinda Dillon, François Truffaut
Duration:135 mins
Directed by: Steven Spielberg
Where to Watch Online:
IMBD Rating: 7.6
Sorry To Bother You (2018)
Sorry To Bother You is a movie that you really need to simply throw yourself into. It's equal parts workplace humour, dystopian satire, and scorched-earth anti-capitalist rant. LaKeith Stanfield plays Cassius "Cash" Green, a poor telemarketer who follows a pro's advice to utilise his "white voice" over the phone in order to advance. Suddenly, he becomes a selling phenomenon when David Cross's voice emits from his mouth. While his friends form unions to obtain better working conditions, Cash climbs the corporate ladder. However, what he discovers at the top is quite unsettling. Like, The Thing-level horrific body terror.
Cast: Lakeith Stanfield, Tessa Thompson, Jermaine Fowler, Omari Hardwick, Tessa Thompson, Terry Crews, David Cross, Danny Glover, Steven Yeun, Patton Oswalt and Armie Hammer
Duration: 112 mins
Directed by: Boots Riley
Where to watch online:
IMBD rating: 6.9
A Quiet Place (2018) 
It's always wonderful when a brand-new horror movie becomes popular just through word of mouth. We didn't get the impression that Jim from The Office's relatively unnoticed directorial debut would become so well-liked that it would prompt imitations quite immediately . A Quiet Place became a success thanks to a unique combination of a straightforward premise—don't make any noise or the aliens will murder you—great acting (especially from Emily Blunt and Millicent Simmonds as her deaf kid) and a truly terrifying monster. It has a paradoxical impression of both being expansive and oppressive. 
Cast: Emily Blunt, John Krasinski, Millicent Simmonds, Noah Jupe
Duration: 90 mins
Directed by: John Krasinski
Where to Watch Online:
IMBD Rating: 7.5
Arrival (2016)
That is a catchy title. There is no alien invasion, danger, or battle royale here. Alien life has emerged, and the only way to understand what humanity does is through a linguist seeking to decipher the meaning of the aliens' cryptic language, not in the military capacity or at the White House. It's an intriguing, fearless, and daringly presented tale that travels through time and memory while using guests from outer space to investigate inner space. Denis Villeneuve's picture demonstrated once again that sci-fi is where the greatest concepts and most deep thoughts about the cosmos and our role in it come out to play after a bit of a gap in big, ideas-led sci-fi movies.
Cast: Amy Adams, Jeremy Renner, Forest Whitaker, Michael Stuhlbarg
Duration: 116 mins
Directed by: Denis Villeneuve
Where to Watch Online:
IMBD Rating: 7.9
Blade Runner (1982)
Before you realise the original story came from the all-seeing imagination of renowned author Phillip K Dick, enjoy the moody Vangelis score, the slow pans above a nightmare Los Angeles of the future, and a youthful, edgy Harrison Ford in the lead character. There are numerous reasons to view and rewatch, especially now that Ridley Scott has released the final version. The larger ensemble is fantastic, but the future-noir tone and atmosphere really pop off the screen and give it a consistently new feel. It is a classic, and a devastating one at that, because it examines what it is to be human in the modern era. 
Cast: Harrison Ford, Rutger Hauer, Sean Young, and Edward James Olmos
Duration: 117 mins
Directed by: Ridley Scott
Where to Watch Online: Amazon Prime Video, Google Play Movies & TV
IMBD Rating: 8.1
E.T. the Extra Terrestrial (1982)
The film manages to combine what may sometimes be the bleak, dystopian world of sci-fi with profoundly moving themes thanks to an astoundingly emotionally sophisticated portrayal from Henry Thomas as Elliot, the young child who discovers the alien (his audition is similarly captivating). As an adult, the iconic moment of Elliott and E.T. riding through the air on a bike will still send chills down your spine along with John Williams' stirring score. In spite of being four decades old, one of Steven Spielberg's best films is still cited as inspiration for contemporary classics like Stranger Things.
Cast: Dee Wallace, Peter Coyote, Robert MacNaughton, Henry Thomas, and Drew Barrymore.
Duration: 114 mins
Directed by: Steven Spielberg
Where to Watch Online: Amazon Prime Video, Apple TV
IMBD Rating: 7.9
The Terminator (1984)
The blockbuster movie starring Arnold Schwarzenegger and directed by James Cameron is a timeless work of science fiction. The role of a cyborg assassin dispatched from 2029 to 1984 to kill John Connor's mother and stop him from striking back opposing the robots that have taken control of the world is perfectly suited for Arnie. What happens next is effectively a nonstop chase movie, but it's done with panache, suspense, and cinematic flair, inspiring a long franchise and a slew of copycats. Although T2 is more sophisticated and ambitious, the original's pace and focus still outperform T2
Cast: Arnold Schwarzenegger, Linda Hamilton
Duration: 1h 48m
Directed by: James Cameron
Where to Watch Online: ZEE5, Amawzon Prime Video, Apple TV
IMBD Rating: 8.1
Gravity (2013)
One of the few movies to ever make 3D feel like a legitimately essential cinematic innovation, Alfonso Cuaron's mind-boggling spacewalk catastrophe movie remains a tense, lean survival thriller even without its slightly nauseous third dimension. Together with seasoned Lieutenant Matt Kowalski (George Clooney), Dr. Ryan Stone (Sandra Bullock) goes on her maiden space mission to assist in repairing the Hubble observatory when a cloud of space debris seriously disrupts their fun day out. They need each other to get home because they are adrift and alone in space. 
Cast: George Clooney and Sandra Bullock
Duration: 1h 31 min
Directed by: Alfonso Cuarón
Where to Watch Online: Amazon Prime Video, Apple TV
IMBD Rating: 7.7
Inception (2010)
Inception, the 2011 film directed by Christopher Nolan, feels more authentically original than his other potent sci-fi work, Interstellar, which has more overt and immediate sci-fi connotations. The simple notion of "what if individuals could share the same dream" through an imaginary piece of technology is sci-fi at its most creative. Yes, it combines heist and action movie cliches. Sometimes it can be confusing, but in a manner that makes viewers want to watch the movie again. The fact that a movie this original and difficult could also be a huge blockbuster hit with the reviled popcorn-eating masses is arguably the most startling (and, at the time, heartening) aspect of all. 
Cast: Ken Watanabe, Joseph Gordon-Levitt, Marion Cotillard, Elliot Page,[a] Tom Hardy, Dileep Rao, Cillian Murphy, Tom Berenger, and Michael Caine.
Duration: 2 h 28 min 
Directed by: Christopher Nolan
Where to Watch Online: Hulu, Prime Video, Apple TV
IMBD Rating: 8.8
Children of Men (2006) 
One common critique of science fiction is that it's difficult to care because the stories and characters are so far from reality. Children of Men is a remarkable exception, taking place in a dismal, grimy, and all-too-familiar England in the year 2027, which is already plagued by issues like social division, terrorist bombs, refugees, pollution, climate change, and nuclear mishaps. That is, except from the minor fact that there hasn't been a birth in 18 years. This highly grim sci-fi movie transforms into a character drama with an unusually joyful finale under Alfonso Cuaron's direction when a pregnant lady is discovered and Clive Owen's despondent lead is called in to aid. 
Cast: Julianne Moore, Chiwetel Ejiofor, Pam Ferris, Charlie Hunnam, and Michael Caine.
Duration: 109 min
Directed by: Alfonso Cuarón
Where to Watch Online: Netflix, Hotstar, Voot
IMBD Rating: 7.9
Under The Skin (2013)
The film adaptation of the same-named Michael Faber book by Jonathan Glazer is surreal, unsettling, and frequently riveting. Above all else, though, it's a unique movie that stays with you long after you've seen it. This is an artistic representation of an alien on Earth that is as far away from ET as it is possible to get. It roughly follows a woman's strange arrival in a depressing and humdrum present-day Glasgow. You could even argue that the 10 years it took director Glazer to complete the film were worthwhile because Scarlett Johansson is outstanding and Mica Levi's score is even better.
Cast: Scarlett Johansson
Duration: 1 h 48 min
Directed by: Jonathan Glazer
Where to Watch Online: Hulu
IMBD Rating: 6.3
WALL-E (2008)
In a dystopian future 700 years from now, after devasting Earth and fleeing from it to dwell on the Axiom, a massive spaceship ruled by the Big Retail tyrants, humanity has returned. One small metal dude is all that's left on Earth to clean up after us; he's WALL-E, the jovial, musically inclined android. With just a cockroach for company, the entrance of EVE—another robot sent to explore Earth—starts WALL-E off on a sincere quest to save humanity while also forging genuine emotional bonds. A philosophical examination of what it means to be sentient, a cautionary tale about overconsumption and reliance on technology, and—most importantly—a tale of a young robot finding true love.
Cast: Voices of, Elissa Knight, Jeff Garlin, Ben Burtt , John Ratzenberger, Kathy Najimy, with Sigourney Weaver and Fred Willard.
Duration: 1 h 38 min
Directed by: Andrew Stanton
Where to Watch Online: Disney +Hotstar, Apple TV
IMdB Rating: 6
High Life (2019)
One of a long list of auteurs who managed to land Robert Pattinson during the Robnaissance, as it will come to be known by future archaeologists, was Claire Denis. On a starship with a coterie of death row inmates, she sent him hurtling into outer space. In an effort to achieve successful artificial insemination, Dr. Dibs (Juliette Binoche) and her miraculous wanking machine are experimenting on them. Sadly, a neighboring black hole has different plans. It's not a happy thing, but it thinks a lot.
Cast: Juliette Binoche and Robert Pattinson
Duration: 1 h 53 min
Directed by: Claire Denis
Where to Watch Online: Netflix, Hulu, Prime Video
IMDB Rating: 5.8
Interstellar (2014)
Christopher Nolan co-wrote, co-directed, and co-produced the 2014 epic science fiction movie Interstellar. In the future, a second Dust Bowl and a global crop plague will gradually make Earth uninhabitable. Professor Brand (Michael Caine), a talented NASA scientist, is devising strategies to save humanity by transferring Earth's inhabitants through a wormhole to a new planet. To find out which of three planets might become humanity's new home, Brand must first send Matthew McConaughey's character, Cooper, a former NASA pilot, and a group of scientists through the wormhole and into the galaxy.
Cast: Matthew McConaughey, Jessica Chastain, Bill Irwin, Ellen Burstyn, Anne Hathaway,  Matt Damon, and Michael Caine
Duration: 2 h 49 min
Directed by: Christopher Nolan 
Where to Watch Online: Netflix, Amazon Prime Video, Apple TV
IMDB Rating: 8.6




#Scifi #Movies #Time #Watch #Online #Interstellar #InceptionVoyage #Dans #Lune