Action is a genre everybody loves. High-octane chase sequences, fights, killings and more. Think Bruce Lee movies of old, and lately John Wick. Action movies are truly one of a kind, full of adrenaline-rushing content that takes your breath away. Earlier, action movies were a little clunky and uncoordinated but nowadays, with the slick production techniques and advanced technology being applied to filmmaking, action movies have levelled up and how. So what are the best action movies on Netflix? Read our article and find out.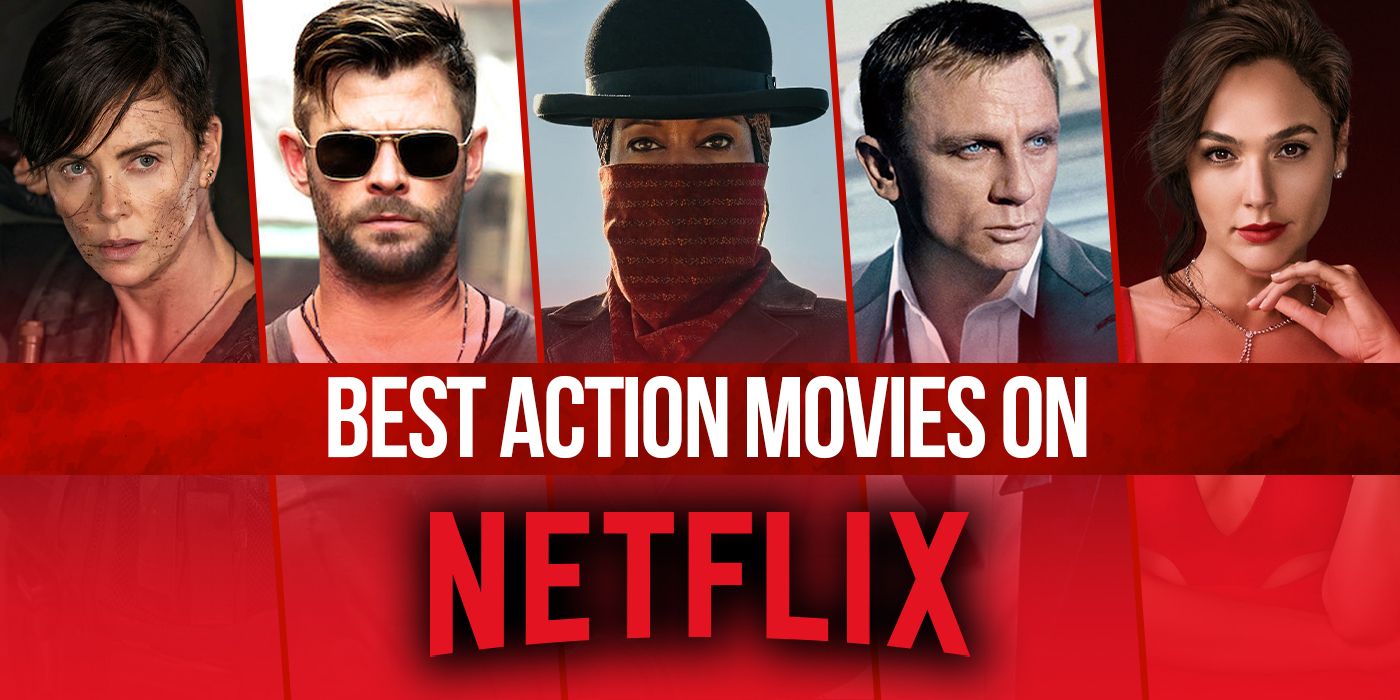 Top Action Movies on Netflix
| | | |
| --- | --- | --- |
| Movie Name | Release Year | Rating |
| Top Gun | 1986 | 6.9 |
| Bad Boys | 1995 | 6.8 |
| Executive Decision | 1996 | 6.5 |
| 6 Underground | 2019 | 6.1 |
| Death Race | 2008 | 6.4 |
| 12 Strong.  | 2018 | 6.5 |
| Red Notice | 2021 | 6.3 |
| The Old Guard | 2020 | 6.6 |
| Extraction | 2020 | 6.7 |
| Army of the Dead | 2021 | 5.7 |
| Enola Holmes | 2020 | 6.6 |
| Kate | 2021 | 6.2 |
| Body of Lies | 2008 | 7 |
| Inglourious Basterds | 2009 | 8.3 |
| Godzilla | 2014 | 6.4 |
| The Italian Job | 2003 | 7 |
| Outlaw King | 2018 | 6.9 |
| Uncharted  | 2022 | 6.3 |
| Wrath of Man | 2021 | 7.1 |
| American Assassin | 2017 | 6.2 |
Top Gun
This one's a classic. Whether it's the soundtrack, or the fact that Tom Cruise looks every inch the fighter pilot in his flight suit and Ray Bans. The story introduces us to ace fighter pilot Maverick, who, after losing his friend, is given a lifeline to try to redeem himself. He struggles to keep up his standards and also gets romantically involved with Charlie, his civilian instructors. This is one of the most iconic movies of all time, and its sequel, Top Gun:Maverick, became a billion dollar hit this year. 
IMDb Rating – 6.9
Cast – Tom Cruise, Tim Robbins, Kelly McGillis, Tom Skerritt, Val Kilmer, Anthony Edwards, Michael Ironside, John Stockwell, Barry Tubb, Rick Rossovich, Clarence Gilyard Jr,  Whip Hubley, Meg Ryan, James Tolkan, Adrian Pasdar, Randall Bedi, Duke Stroud, Brian Sheehan.
Duration– 1h 50 min
Genre – Action, Drama
Director – Tony Scott
Also Read: Best Bollywood Movies 2022: Star Cast, Storyline, IMBD Rating, and More
Bad Boys
"Bad Boys Bad Boys. Whatchu gonna do?". We've either heard the above line or hummed and sang it to ourselves, thanks to the Will Smith and Martin Lawrence caper Bad Boys. 
This has to be one of the most entertaining action franchises, and introduces us to Marcus, a family man, and Mike, a ladies man, both partners in the Miami Police Department. While investigating a drug deal, they assume each other's identity, and things get complicated from there. This is one of the finest action movies on Netflix India. 
IMDb Rating – 6.8
Cast – Will Smith, Martin Lawrence, Lisa Boyle, Emmanuel Xuereb, Michael Taliferro, Tchéky Karyo, Marc Macaulay, Vic Manni, Ralph Gonzalez, Frank John Hughes, Mike Kirton, Will Knickerbocker, Theresa Randle, Tiffany Samuels, Cory Hodges, Scott Cumberbatch, Anna Thomson, Joey Romano.
Duration-1h 59min
Genre – Action, Comedy, Crime
Director – Michael Bay
Executive Decision
A flight gets hijacked by Nagi Hassan, a terrorist, and his men, who want their leader released. An intelligence agent, David Grant, accompanied by other military personnel, goes on a mission to rescue the passengers. This movie is the directorial venture of Stuart Baird, in his directorial debut. With its high-octane action sequences in the air especially when the terrorists are being negotiated with, this movie is sure to have you hanging off the edge of your seat. 
IMDb Rating – 6.5
Cast – Kurt Russell, Oliver Platt, Halle Berry, John Leguizamo, Joe Morton, BD Wong, Steven Seagal, David Suchet, BD Wong, Len Cariou, Whip Hubley, Andreas Katsulas, Mary Ellen Trainor, Marla Maples, J.T. Walsh, Ingo Neuhaus, Williams James Jones, Paul Collins, Nicholas Pryor. 
Duration-2h 13 min
Genre – Action, Adventure, thriller. 
Director – Stuart Baird
6 Underground
Michael Bay is the director of this action movie, which will have you hooked because it is so entertaining. Mediocre writing aside, this movie has the potential to entertain you on a different level. The movie follows 6 individuals from around the globe, each the best at what they do. They've been chosen not only for their skill, but for their unique desire to erase their pasts to alter the future. 
IMDb Rating – 6.1
Cast – Ryan Reynolds, Mélanie Laurent, Manuel Garcia-Rulfo, Ben Hardy, Adria Arjona, Dave Franco, Corey Hawkins, Lior Raz, Payman Maadi, Kim Kold, Lidia Franco, Yuri Kolokolnikov, James Murray, Lukhanyo Bele, George Kareman, James Carroll Jordan, Ron Funches, Daniel Adegboyega.
Duration-2h 8 mins
Genre – Action, Thriller
Director – Michael Bay
Death Race
This dystopian action-thriller by Paul WS Anderson, has a unique story in which prisoners put their lives at stake, racing in purposefully-designed junkyard themed cars to win their freedom. Expect proper, no-nonsense action, cheesy dialogues and the classic good guys vs bad guys. This movie is an out and out entertainer and is one of the best action movies on Netflix India. 
IMDb Rating – 6.4
Cast – Joan Allen Tyrese Gibson, Jason Statham, Ian McShane, Max Ryan, Natalie Martinez, Frederick Koehler, Jason Clark, Jacob Vargas, Justin Mader, Robin Shpu, Robert LaSardo, Benz Antoine, Danny Blanco Hall, Christan Paul , John Fallon, Bruce McFee.
Duration-1h 45 min
Genre – Action, Sci-fi, thriller. 
Director – Paul W.S. Anderson
12 Strong
The story follows Captain Mitch Nelson, who heads an elite team on a mission to battle the Taliban in their background-Afghanistan. Nelson summons a local warlord for help, while the situation deteriorates, becoming morally complicated. Nicolai Fuglsig has directed this action movie which has some pretty good sequences to keep you hooked. 
IMDb Rating – 6.5
Cast – Chris Hemsworth, Michael Shannon, Michael Pena, Trevante Rhodes, Navid Negahban, Geoff Stults, Thad Luckinbill, Austin Hebert, Austin Stowell, Ben O'Toole, Kenneth Miller, Kenny Sheard, Jack Kesy, Rob Riggle, William Fichtner, Arshia Mandavi, Elsa Pataky, Marie Wagenman.
Duration-2h 10min
Genre – Action, Drama, History
Director – Nicolai Fuglsig
Red Notice
This is one of the most ambitious Netflix Original projects of all time. The story is set in the world of international crime, in which an Interpol agent tries to hunt down and capture the world's most notorious and wanted art thief. Thrilling chase sequences, action and a lot of drama define this movie. Does the thief get caught? Or does he keep pilfering to fill his pockets? Watch the movie and find out. 
IMDb Rating – 6.3
Cast – Dwayne Johnson, Ryan Renolds, Gal Gadot, Ritu Arya, Chris Diamantopoulos, Ivan Mbakop, Vincenzo Amato, Rafael Petardi, Seth Michaels, Guy Nardulli, Andrew Hunter, Sebastien Large, George Tsai, Rawson Marshall Thurber, Robert Mata, Anthony Belevtsov, Daniel Bernhardt, Yosef Podolski.
Duration-1h 58 min
Genre – Action, Comedy, Thriller
Director– Rawson Marshall Thurber
The Old Guard
This movie has been directed by Gina Prince-Bythewood, and is thoroughly entertaining, with the right blend of action and emotional elements. Some landmark performances from the cast, the plot and some solid directing makes The Old Guard one of the finest action movies on Netflix. 
IMDb Rating – 6.6
Cast – Charlize Theron, KiKi Layne, Matthias Schoenaerts, Marwan Kenzari, Luca Marinelli, Chiwetel Ejiofor, harry Melling, Veronica Ngo, Natacha Karam, Mette Narrative, Anamaria Marinca, Michael Ward, Shala Nyx, Majid Essaidi, JoeyAnsah, Olivia Ross, Andrei Zayats, Peter Basham.
Duration-2h 5 min
Genre – Action, Thriller
Director – Gina Prince-Bythewood
Extraction
This movie has been directed by Sam Hargrave, and revolves around Tyler Rake, who has been hired to go on a mission to save Ovi Mahajan, the abducted son of an Indian drug lord, who has been held captive by a Bangladeshi gangster. Joe Russo has penned the screenplay of this breathtaking action film, and it has some extreme, violent and no-nonsense action scenes. 
IMDb Rating – 6.7
Cast – Ryder Lerum, Chris Hemsworth, Bryon Lerum, Rudhraksh Jaiswal, Shivam Vichare, Piyush Khati, Sara Rumao, Randeep Hooda, Arti Kulkarni, Umakant Patil, Praveen Indu, Swapnil Kokum, Pankaj Tripathi, Neha Mahajan, Pallas Prajapati, Shazia Naz Gill, Rob Collins, Wayne Blair. 
Duration-1h 56 min
Genre – Action, Thriller.
Director – Sam Hargrave
Army of the Dead
A bunch of well-trained individuals battle their way through zombies on a mission of saving a wealthy casino owner. The movie is 2 hours long and full of some amazing action sequences. The storyline was good, and overall the movie performs well. The camera work done by Zack Snyder adds to the overall effect of this movie, making it a fun watch. 
IMDb Rating – 5.7
Cast – Ella Purnell, Dave Bautista, Ana de la Reguera, Omari Hardwick, Theo Rossi, Matthias Schweighöfer, Nora Arnezeder, Hiroyuki Sanada, Garret Dillahunt, Tig Notaro, Raúl Castillo, Huma Qureshi, Samantha Win, Richard Cetrone, Michael Cassidy, Steve Corona, Chelsea Edmundson, Zach Rose. 
Duration-2h 28 min
Genre – Action, Crime, Horror
Director – Zack Snyder
Enola Holmes
This movie is a vibrant, heartwarming and happy-go-lucky fun-filled adventure which still has some quick-witted blistering scenes and quite a lot of mystery-something usually seen in a Sherlock Holmes film. The narrative has some good depth, and this movie comes off as anything but ordinary. 
IMDb Rating – 6.6
Cast – Millie Bobby Brown, Sam Claflin, Henry Cavill, Helena Bonham Carter, Burn Gorman, Adeel Akhtar, Louis Partridge, Susan Wokoma, Hattie Morahan, David Bamber, Frances De La Tour, Claire Rushbrook, Fiona Shaw, Gaby French, Paul Kopley, Alex Kelly, James Duke, Ellie Haddington.
Duration-2h 3 min
Genre – Action, Adventure, Crime
Director – Harry Bradbeer
Kate
Directed by Cedric Nicolas-Troyan, this movie has a lot of action sequences, and a fair share of suspense. The plot revolves around the primary character, a vicious and trained assassin, on her final assignment. She has less than a day to discover who has ordered the hit on her so she can exact revenge. 
IMDb Rating – 6.2
Cast – Mary Elizabeth Winstead, Woody Harrelson, Miku Patricia Martineau, Tadanobu Asano, Jun Kunimura, Miyavi, Michiel Huisman, Mari Yamamoto, Hirotaka Renge, Kazuya Tanabe, Cindy Sirinya Bishop, Amelia Crouch, Ava Caryofyllis, Gemma Brooke Allen, Hiroyuki Kobayashi, Koji Nishiyama, Kazuhiro Muroyama, Shinji Uchiyama. 
Duration-1h 46 min
Genre – Action, Adventure, Crime, 
Director – Cedric Nicolas-Troyan
Body of Lies
Directed by Ridley Scott, this 2008 movie's protagonist is a CIA agent, who picks up a lead on a terrorist organisation leader. When he devises a plan with the help of his boss Hoffman to capture Al-Saleem, things take a total turn. Intense and full of action and solid performances, this movie is backed by stellar direction and a strong script. 
IMDb Rating – 7
Cast – Leonardo DiCaprio, Russell Crowe, Golshifteh Farahani, Mark Strong, Oscar Isaac, Ali Suliman, Alon Aboutboul, Vince Colosimo, Simon McBurney, Mehdi Nebbo, Michael Gaston, Jameel Khoury, Kais Nashif, Lubna Azabal, Ali El Khalil, Ghali Benlafkih, Youssef Srondy, Giannina Facio.
Duration-2h 8 min
Genre – Action, Drama, Thriller
Director – Ridley Scott
Inglourious Basterds
Every once in a while, a movie comes which blows everyone away. Inglorious Basterds is one such movie, depicting the darkest period in humanity's history – the reign of Hitler during World War 2. A ragtag bunch of Jewish soldiers are on an undercover mission to take down the Third Reich and end the war. In a parallel story, a woman wishes to avenge the death of her family at the hands of a German officer. One of the best Tarantino flicks in recent times, this is easily the best action movie on Netflix. 
IMDb Rating – 8.3
Cast – Brad Pitt, Diane Kruger, Eli Roth, Mélanie Laurent, Christoph Waltz, Daniel Brühl, Til Schweiger, Michael Fassbender, Gedeon Burkhard, Jacky Ido, B J Novak, Omar Doom, Sylvester Groth, August Diehl, Denis Ménochet, Martin Wuttke, Mike Myers, Julie Dreyfus.
Duration-2h 33 min
Genre – Adventure, Drama, War
Director – Quentin Tarantino. 
Godzilla
After the disaster that was Godzilla in 1998, Gareth Edwards took out another movie which was more lifelike and convincing to all fans and onlookers. This movie uniformly impresses on each and every aspect, and while it was not overdone to any extent, the lack of spine-tingling action sequences are a must watch. This movie is a stable yet stimulating take on the famous action regular spine-tingling action sequences. This movie is a refreshing tale on the character of Godzilla. 
IMDb Rating– 6.4
Cast – Aaron Taylor-Johnson, Elizabeth Olsen, Bryan Cranston, Carson Bolde, CJ Adams, Sally Hawkins, Ken Watanabe, Juliette Binoche, Richard T Jones, David Strathairn, Victor Rasuk, Patrick Sabongui, Jared Keseo, James Pizzinato, Luc Roderique, Catherine Lough Haggquist, Primo Allon, Eric Keenleyside.
Duration-2h 3 min
Genre – Action, Adventure, Sci-fi
Director – Gareth Edwards
The Italian Job
Charlie Croker and John Bridger put together a team to nick gold bars from a Venice vault, yet they aren't successful meticulously but one of their team members team. After a number of years Charlie carefully plans another heist. This is one of the best action movies on Netflix. 
IMDb Rating – 7
Cast – Donald Sutherland, Edward Norton, Mark Wahlberg, Charlize Theron, Jason Statham, Yasiin Bey, Seth Greene, Fausto Callegarini, Fabio Scarpa, Tiberio Greco, Cristiano Bonora, Jimmy Shubert, Tammi Cubilette, Mary Potser, Shawn Fanning, Christopher Moore Jr., Terrell Jones.
Duration-1h 51 min
Genre – Action, Crime, Thriller.
Director – F. Gary Gray
Outlaw King
This story takes us back to the 14th century. A historical action drama, it traces the journey of the King of Scotts, Robert the Bruce, and his valiant efforts in leading Scotland during the first War of Scottish Independence against England. This movie has been filmed in real castles and locations from all across the UK, and provides a proper mega movie theatre experience like no other, thanks to those amazing wide-screen panoramic shots. 
IMDb Rating – 6.9
Cast – Rebecca Robin, Billy Howl, Chris Pine, Sam Spruell, Paul Blair, Jonny Phillips, Ben Clifford, Jamie Maclachlan, Duncan Lacroix. Kevin Mains, Stephen Cree, Tony Curran, James Cosmo, Alastair Mackenzie, Jack Greenlees.
Duration-2h 1 min
Genre – Action, Biography, Drama.
Director – David Mackenzie
Uncharted
This movie has been directed by Ruben Fleischer, and is derived from the video game series of the same name. The movie follows the life of everyone's favourite PlayStation character in Nathan Drake, while Mark Wahlberg stars as Victor Sullivan, or Sully, his mentor. In this story, Drake and Sully chase a long lost treasure that Ferdinand Magellan, the great explorer, discovered a long time ago. This treasure was lost, however anything that's lost can also be found. 
IMDb Rating – 6.3
Cast – Tom Holland, Mark Wahlberg, Sophia Ali, Antonio Banderas, Tati Gabrielle, Steven Waddington, Pingi Moli, Tiernan Jones, Rudy Pankow, Jesus Evita. Joseph Balderrama, Diarmaid Murtagh, Serena Posadino, Alana Boden. 
Duration-1h 56 min
Genre – Action, Adventure. 
Director – Ruben Fleischer
Wrath of Man
The story of this movie revolves around a new security guard for a cash truck, who shocks his co-workers when he showcases his precision skills during a heist. The crew keeps wondering who he is and what his origin is. Soon, his motive becomes clearer as he takes drastic and certain steps to settle a score. 
IMDb Rating – 7.1
Cast – Josh  Hartnett, Jason Statham, Holt McCallany, Andy Garcia, Jeffrey Donovan, Scott Eastwood.
Duration-1h 59 min
Genre – Action, Crime, Thriller
Director – Guy Ritchie
American Assassin
After losing his girlfriend in a terrorist attack, Mitch decides to seek revenge, and enlists himself in the CIA to put an end to terrorism. This 2017 action thriller movie has been directed by Michael Cuesta. Will Mitch be able to combat global terrorism? Can he avenge his girlfriend's death? Watch the movie and find out. 
IMDb Rating – 6.2
Cast – Dylan O'Brien, Michael Keaton, Sanaa Lathan, Taylor Kitsch, Charlotte Vega, Christopher Bomford, Chris Webter, Buster Reeves, Simon Connolly, Nick Cavaliere, Yousef 'Joe' Sweid, Adam Collins, Joost Janssen, Trevor White, JF Davis, David Suchet, Michael Wildman.
Duration-1h 51 min
Genre – Action, Thriller
Director – Michael Cuesta
That rounds off the best Action movies on Netflix. 




#Action #Movies #Netflix #December #Star #Cast #Story #Line #IMBD #Rating